Brought To You By
Kitchens.com

A curved rangehood matches the curve of the marble backsplash between the sink and dining bar. Paul's kitchen was inspired by fellow designer Johnny Grey, who espouses "soft geometry" in his designs.

A Jenn-Air fridge gives Ann plenty of room to store fresh and frozen food, while all cabinet storage is in the form of base cabinets and stainless steel shelves. Not having wall cabinets gives the kitchen a "clean and streamlined" look, according to Paul. The two doors behind the cooking area lead to a large pantry that gives Ann even more storage.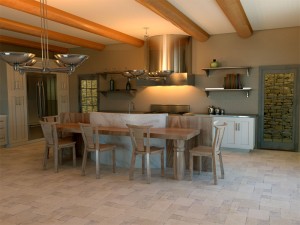 Paul's goal was to create a space that is "rustic but not primitive." One of the rustic design features is timber ceiling beams, which are curved to go along with the other curved aspects of Ann's kitchen.

Ann's dream kitchen would be set in the Colorado Rockies, and she wanted to have an outdoor kitchen that allowed for cooking and entertaining, as well as a great view of the surroundings. Paul's outdoor kitchen design provides a large patio and seating for guests, and plenty of tools for serving up meals.
Share post