Kitchen Remodeling By Premiere Kitchens of Pittsburgh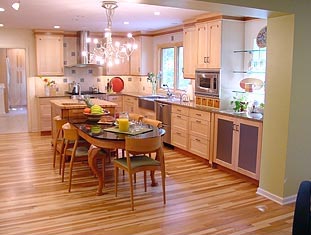 A kitchen sets the tone for the home. From entertaining guests to a quiet evening of relaxation around the dinner table, the focal point of your home deserves a certain elegance and personal ambiance that Premiere Kitchens can execute with ease. From cabinetry to adding the warmth and glow of a newly customized fireplace, Premiere will furnish the design, products, and complete build out, of your dream kitchen.
Premiere Kitchens has sought out and established relationships with the most prominent and dependable kitchen manufacturers in the industry. They specify and recommend these products based on quality and value. In addition, Premier belongs to a nationwide industry buying group which enables them to procure product directly at deep discounts. This eliminates the middle-man further enhancing the value that premier has to offer.
Premiere Kitchens has more than a decade of experience in the kitchen remodeling industry and we're happy to offer our exceptional kitchen remodeling service for homeowners throughout Butler, Beaver, Westmoreland, and Washington counties. So whenever you are ready for a Kitchen Remodeling job, please contact Premier Kitchen.